Project Aila
‍Anand Charity is happy to report that all funds collected for disaster relief efforts after cyclone Aila have been utilized.
After the cyclone wrecked havoc in West Bengal in March, Anand Charity joined hands with Mukti, an active NGO in this region, to help in the relief effort. In June 2009, with the support of generous donors, we contributed $2,000 for projects aimed at providing relief to those affected by Aila. We are happy to report that Mukti has been very efficient in executing relief efforts with the money raised. The following is a description of three events made possible by your kind support:

1. Two medical camps in the areas of Haripur, Pathar and Sunderban, where 345 victims of Aila were provided with medical and general assistance. Funds: Rs 21,500. ( http://muktiweb.org/Gallery/Kak_med_2 )
2. Two hundred mosquito nets were given to victims in Nandakumarpur, Mathurapur-II and Sunderban on August 1, 2009. Funds: Rs. 26,000 (mosquito nets) + Rs. 1,000 (program expenses) = Rs. 27, 000. ( http://muktiweb.org/Gallery/aila_relf_nanda )
3. Hundred and sixty seven students of the Dakhinkashi Jana High School were provided with educational materials (text books, pens, school bags, etc.). Funds: Rs. 42,500 (materials) + Rs. 1,000(program expenses) = Rs. 43,500. ( http://muktiweb.org/Gallery/book_bank_dakhin )
It has been nearly four months now and the effects have not worn off. While we were able to help a few of those that were impacted, there are many more who still need our help.
When Nature Strikes a Blow
In a land where people worship the forces of Nature, where farmers fervently look forward to the rains, it's unfortunate that Nature violently unleashed her surplus bounty through Cyclone Aila. In May 2009, the fierce cyclone swirled around the eastern Indian state of West Bengal, and its neighboring country Bangladesh, resulting in over 200 deaths and more than 500,000 homeless. The Sunderbans delta popularly known for its Bengal tigers faced the brunt of the storm. The heart wrenching part is that the worst affected by the storm are the economically hapless, down trodden sections of the population, who have very little means to find help and recover from the tragedy. With crops damaged, modest mud and thatch houses demolished, families and loved ones missing or dead, orphaned children, lack of proper food, drinking water, medicines and shelter, the impact of this tragedy severely weighs on the relief workers and hundreds of thousands of homeless locals. Despite rescue operators' working round the clock, the staggering extents of the devastation keep unfolding even after almost a month after the storm.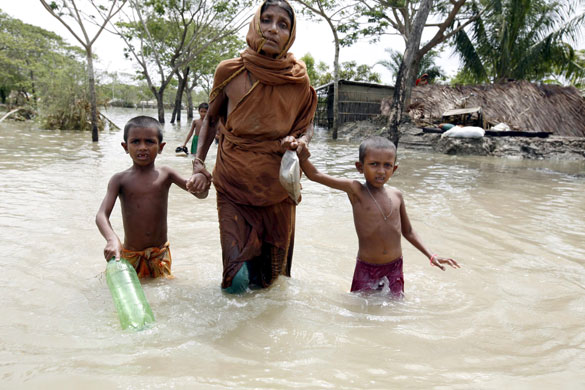 We at Anand Charity have taken an initiative to help with relief measures to combat the crisis, in collaboration with Mukti, a non-political, non-religious, socio-development organization based in West Bengal. Mukti is registered under Government of India Trust Act– Section 64 as a charitable, non-profit, socio-economic development trust, in addition to being registered as a California non-profit public benefit corporation. Geared towards uplifting the lives of the rural community in West Bengal, specifically in the Sunderban region, Mukti has been involved in a lot of commendable projects to improve education, computer literacy, sanitation and employment/vocational opportunities for the rural community.
The grant from Anand Charity will enable Mukti to execute the relief efforts through the concrete goal of providing immediate help to around 300 people devastated by the storm in the Sunderban delta area with resources such as
a. Food, such as rice, potatoes and cereals
b. Clean drinking water, through bleaching, desalination and treatment of the saline water
c. Medical camps that distribute necessary medicines
d. Mosquito nets and canvas for temporary shelters
e. Lanterns
The Project is designed to be effectively completed within 30 days. Anand Charity requests its generous donors to help us mitigate the severity of this calamity.
Project Update - Pictures of Ongoing Progress

For more pictures, please click here.
Please donate generously to this project here.
Project Completion Date:
Wed, 2009-07-15